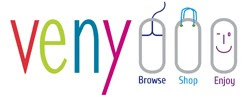 Before yesterday I ordered from
Venyooo
so today they called me to confirm that I'm going to receive the order tonight anyway before 30 mintues I got a call from small kid telling me that my order shipped to their home instead of mine Also the kid told me that they pay for the delivery man while I already paid by K-net .
I'm so mad , so angry , I will never order from them anymore and if I didn't get my order any soon I will contact the bank to take the legal step.
*UPDATE:
They called me too many time to apology also i recived it, i will try them again and will see what will happen.
** The Newest
Update: i ordered again from them and to be honest they deliver it on the same day, without any problems, thank you.
- Posted using BlogPress from my iPad